Shuttercam
---
The Shuttercam project originated based on the notion that people do not know if and when cameras in public space are recording or not.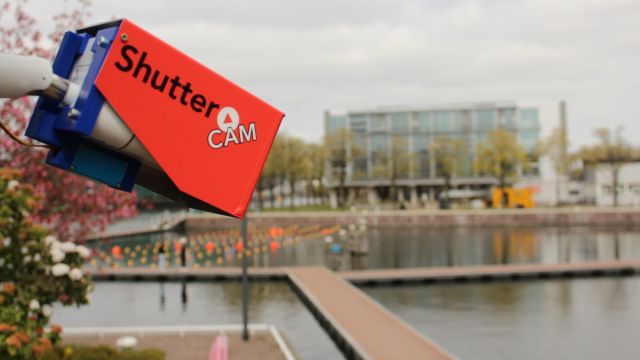 ---
The Shuttercam project originated based on the notion that people do not know if and when cameras in public space are recording or not. We wondered: would people like to live in a city where all city cameras clearly show or state when they're not in use? What if, just like laptop shutters many people have placed over their webcam, this could be a way to make clear to citizens when a camera is not recording them?
The ultimate goal is to design cameras that gather only the required type or amount of data necessary for the city to operate or perform that specific task to safeguard the right of citizens to walk around freely and unobserved."

— Thijs Turèl, Co-initiator Responsible Sensing Lab
For this project, at first a time lapse camera at the office of AMS Institute was outfitted with a shutter. Subsequently, the effects of this small-scale pilot were examined by interviewing staff and visitors. Currently, there are three Shuttercam prototypes tested at Marineterrein Amsterdam Living Lab (MALL).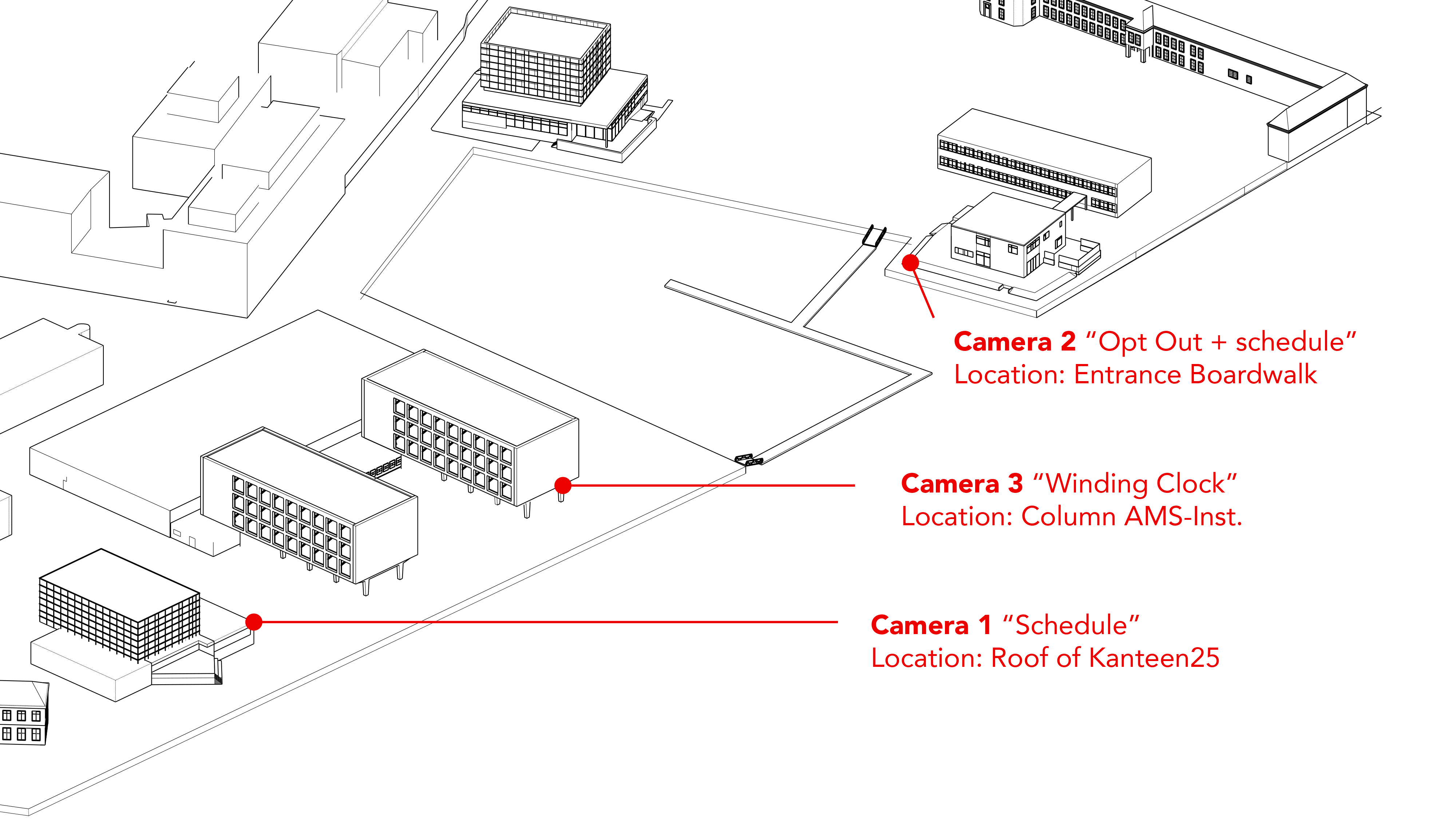 We are exploring if the cameras within this project could become part of the crowd monitoring system by the City of Amsterdam, which is a privacy friendly system.
A crowd monitoring system works with a camera that has an algorithm read out and analyzes video images. In addition to measuring crowds and displaying those crowds in usable numbers, the algorithm can also determine whether people keep a distance of 1.5 meters. All this is done in an anonymous manner that naturally complies with all privacy legislation.
The video images are not watched by a human but are processed automatically. Only a few frames are saved with unrecognizable, blurred people's faces. Those frames help to "train" the algorithm. Furthermore, the images are not saved.
The camera's within this project are registered on the City of Amsterdam's Privacy map. This map shows where the City of Amsterdam collects data in public space and for which purposes. Here you can also find the corresponding Privacy statement.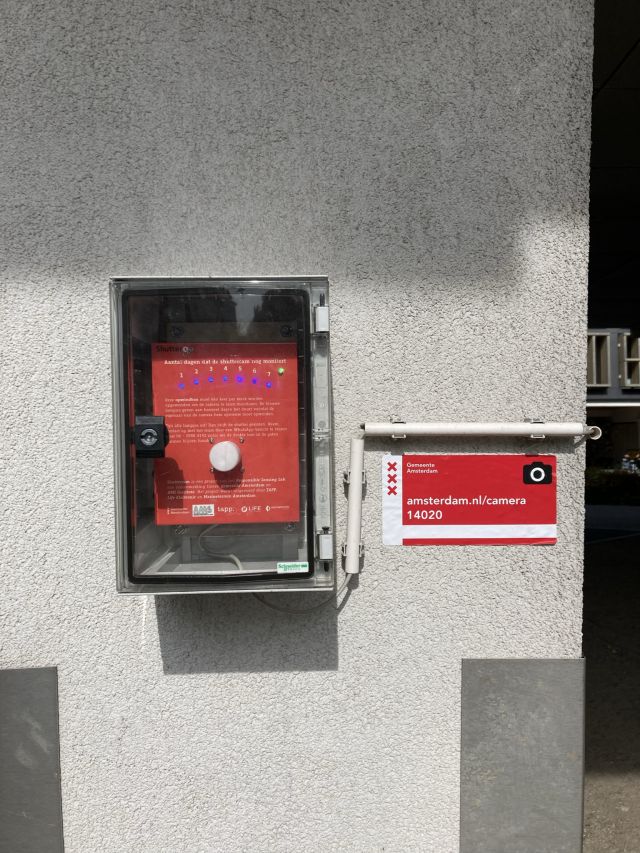 1. Scheduled Shuttercam
The first camera, positioned on the roof of Kanteen 25 monitoring the public picnic area, is equiped with a shutter operating according to the following set time schedule over the year.
Summer Schedule
April 14th – September 30st 2021

Weekdays:
3 PM - 10 PM shutter open
10 PM - 3 PM shutter closed

Weekend days:
9.00 AM - 10 PM shutter open
10 PM - 9 AM shutter closed

Winter Schedule
October 1st – March 31st 2022
The shutter is closed 24hrs
2. Opt out Shuttercam
The second camera is situated at the street light in front of the "Commandantwoning". It is equipped with a shutter that is operating according to the same set time year schedule but has a large push button. When Marineterrein Amsterdam visitors press the button, the shutter covers the camera for 15 minutes, like an opt out.
3. Winding Clock Shuttercam
At the column in front of Gebouw 027 (AMS Institute Westkade), the third camera is situated. It is equipped with a shutter that can be controlled via a winding mechanism. This clock needs to be winded manually once a week to ensure the shutter continues to open and close according to the set time schedule. This winding clock increases the costs and effort to keep the sensor running.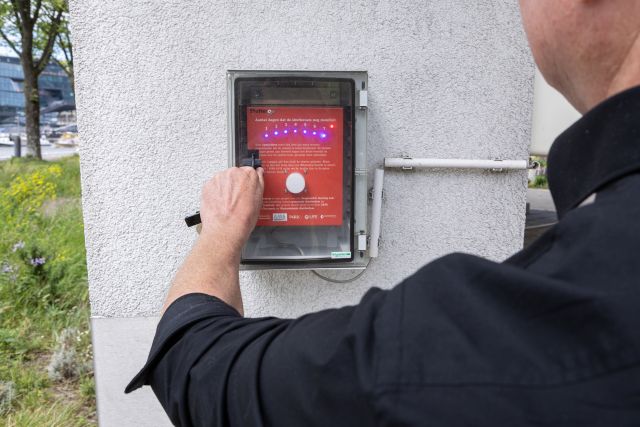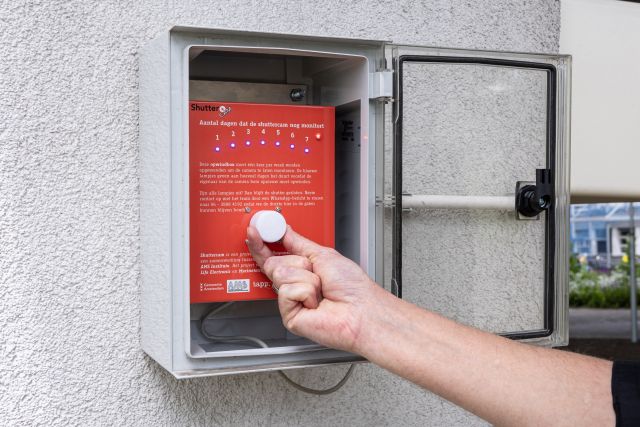 The winding mechanism adds a layer of physical limitation in the operation of the shutter at the physical hardware of the camera assembly as an experimental safeguard against any possible hacking of the remotely operable control system.
This experiment comes from the critique that it is becoming all too easy for parties to install new sensors and just keep them in place indefinitely. One of the reasons given is that the costs to do so are rapidly going down. In public organizations, there are procedures that need to be followed to re-evaluate the need for a sensor after a period of time. But there is risk these are not are always followed.
During the test phase of this project, Marineterrein Amsterdam employees will have to manually rewind this camera once a week in order to be switched on. Let's see if they will actually do so."

— Tom van Arman, Smart City, Civic Technologies, Urban Innovations, Architect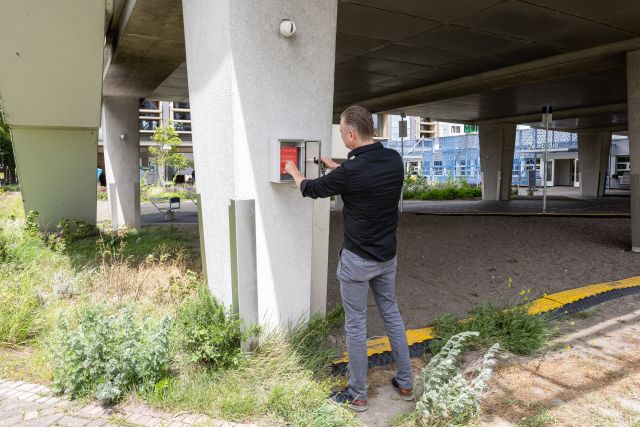 Testing hypotheses
With these prototypes in place at Marineterrein Amsterdam Living Lab, several hypotheses are being tested by the Shuttercam project:
Are cameras operated with shutters and an opening-closing time schedule preferred over cameras without a shutter?
Are cameras with the possibility to opt out preferred even better?
Does an opt out button make passengers feel more comfortable about the camera?
Do passengers take control over the operation of the shutters when they have the choice?
Will cameras still operate when authorities have to put effort in keeping it running?
Do these experiments raise awareness about the need for cameras in general or the variety of goals they serve?
This experiment is also testing the principle of 'data minimisation'. This refers to the aim of the City of Amsterdam to only collect personal data in public space if it is appropriate, relevant and limited to what is necessary for the purposes for which they are processed. This is why Shuttercams mainly run during peak hours.
The results of the Shuttercam project will be used in the design of new, 'responsible' ways of camera surveillance in the city.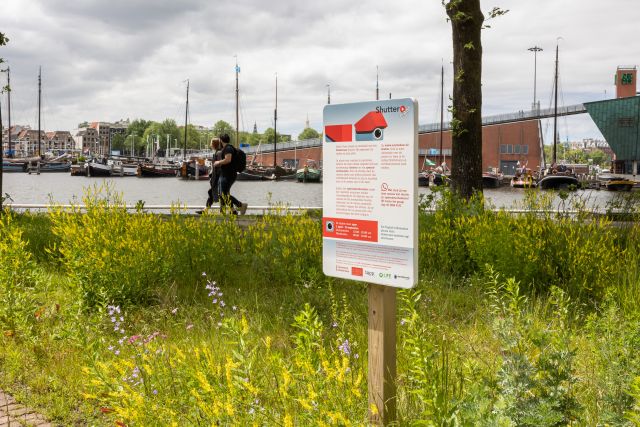 We would love to hear from you
The Responsible Sensing Lab team greatly appreciates your opinion on these experiments. Please send us an e-mail if you have any feedback or questions.
The Shuttercam project is executed by Tapp, Life Electronic and Marineterrein Amsterdam. Our goal is to present the outcome of the experiment during 2021.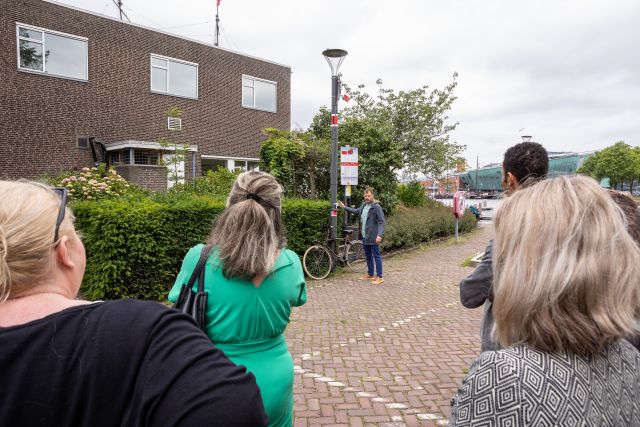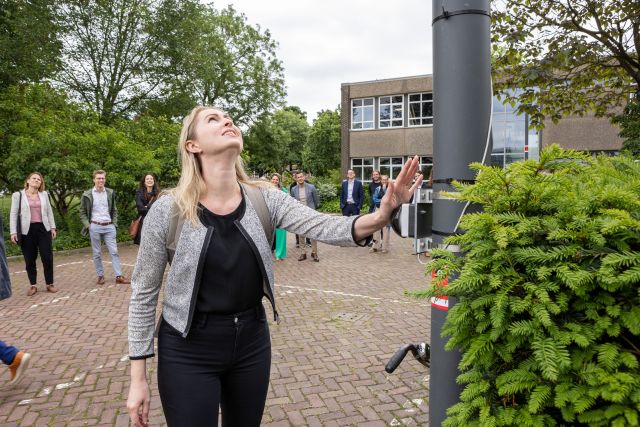 Presentation of Shuttercam during working visit parliamentary committee of Digital Affairs
---